RESTAURANTS
The best culinary experiences in the complex are awaiting you!
Monty
A culinary temptation in the heart of the first Bulgarian seaside resort
A new look at traditional recipes from Bulgarian and European cuisine. Suggestions that surprise you with exclusive presentation. Art on a plate - this is Monty Restaurant. A place where every dinner is a special event and culinary celebration.
Villa Chinka Restaurant
Italian chic & Mediterranean taste
A year-round culinary concept combining the freshness and tastes of seasonal produce from traditional Bulgarian recipes with accents from the Mediterranean cuisine. Author's cuisine served with chic & taste.
The Bay - The Bay Beach & BBQ
Where the sky kisses the sea
One of the most beautiful places in the resort where you can combine the beach with an excellent cuisine. You will find it in the tranquillity of the small bay in the resort, on the very beach - awaiting the sunrise and seeing away the sunset. The coolness of the stone booths, the coziness of the bar and the picturesque beach will not let you go or sail! You should just see the sky kissing the sea!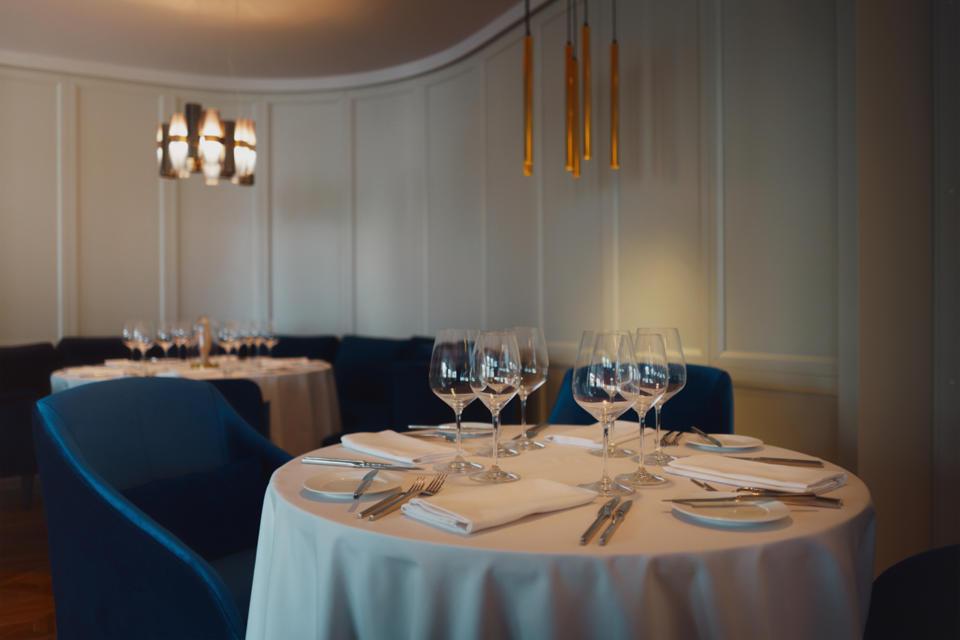 Monty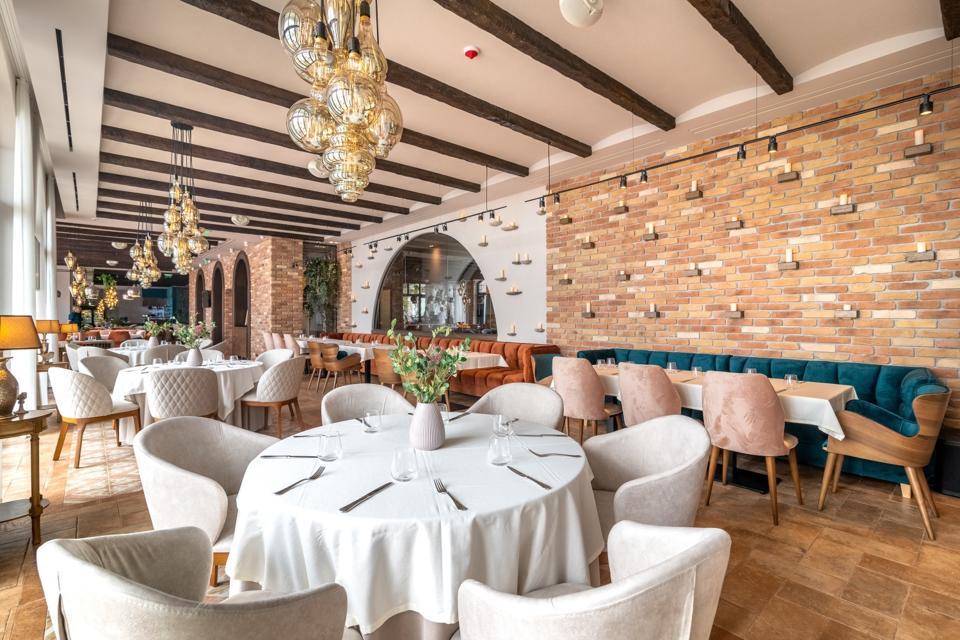 Villa Chinka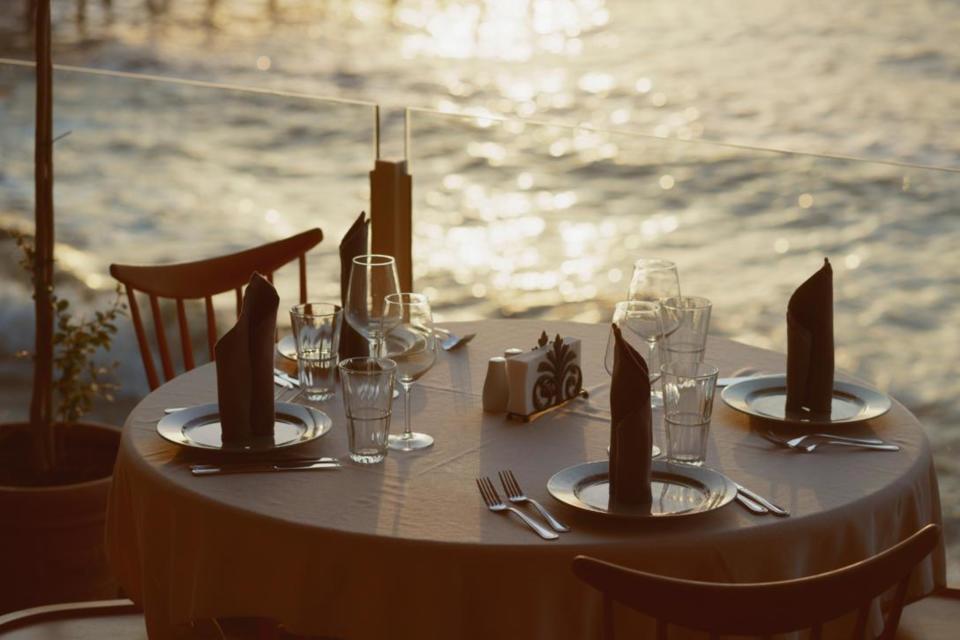 The Bay
MORE beach restaurant
Where the sunset embraces the sea!
Literally. There is no other coastal location in the resort of Sts. Constantine and Helena, from which this perfect view is so palpable. Restaurant MORE was created with a joke in the name. This "more beach restaurant" emphasizes on more. And the beauty of the native shores, and the secrets of the Black Sea cuisine! It keeps old techniques for a rich and varied catch. It knows where the freshest rapans are. Knows the finest techniques for salting fresh fish. And prepares all these delicacies in extremely tasty variations. Eh, this soup of sprat, kaya and lichnus… Or fried sea bass with baked potatoes and thyme!
Small City Cafe
Small City Cafe will enchant you with excellent coffee and delicious food in a pleasant atmosphere during the day, and in the evening you can enjoy aperitifs and good music.
Ресторант Capriccio
Capriccio Restaurant will enchant you with many delicacies, excellent service and a pleasant atmosphere. We are expecting you!
Goldfish Restaurant
The perfect culinary temptation with a breath of sea in Sts. Constantine and Helena.
Whitewashed walls, the aroma of figs and the most beautiful panoramic sea view. And the menu will enchant you - fresh sea and lake fish, squid, octopuses and other seafood.
Villa Mare Restaurant
The House of Extraordinary Taste. The menu of Villa Mare shows desire to focus on seasonal flavors and the flirt with classic flavors.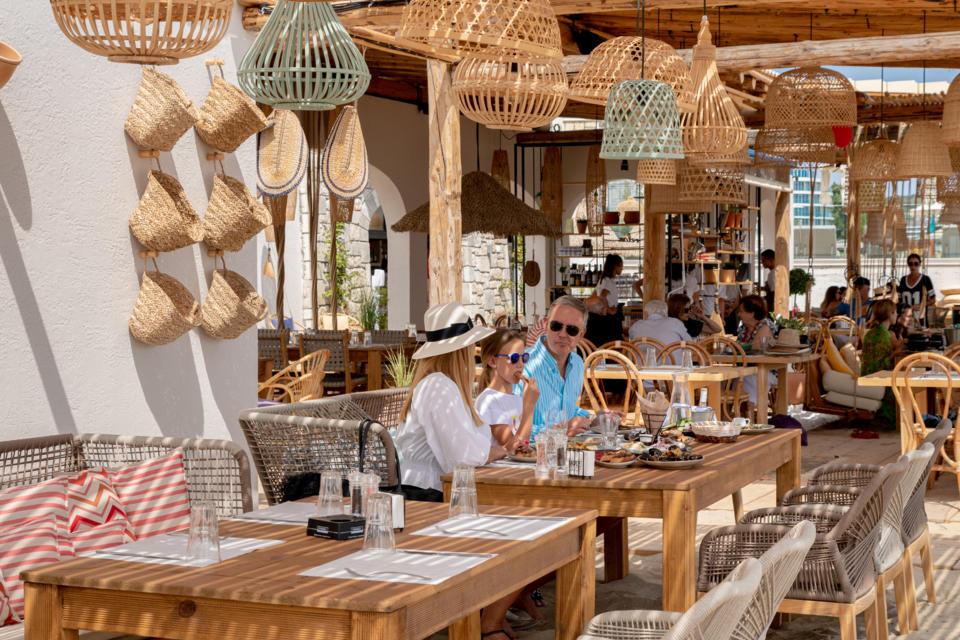 MORE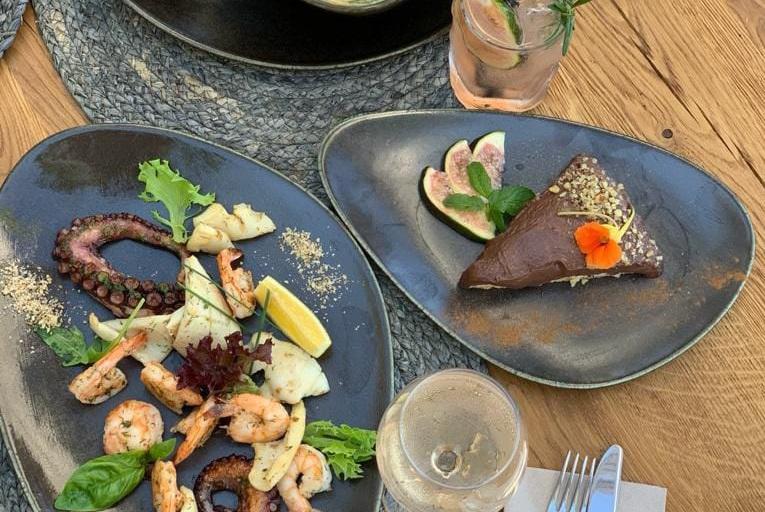 Goldfish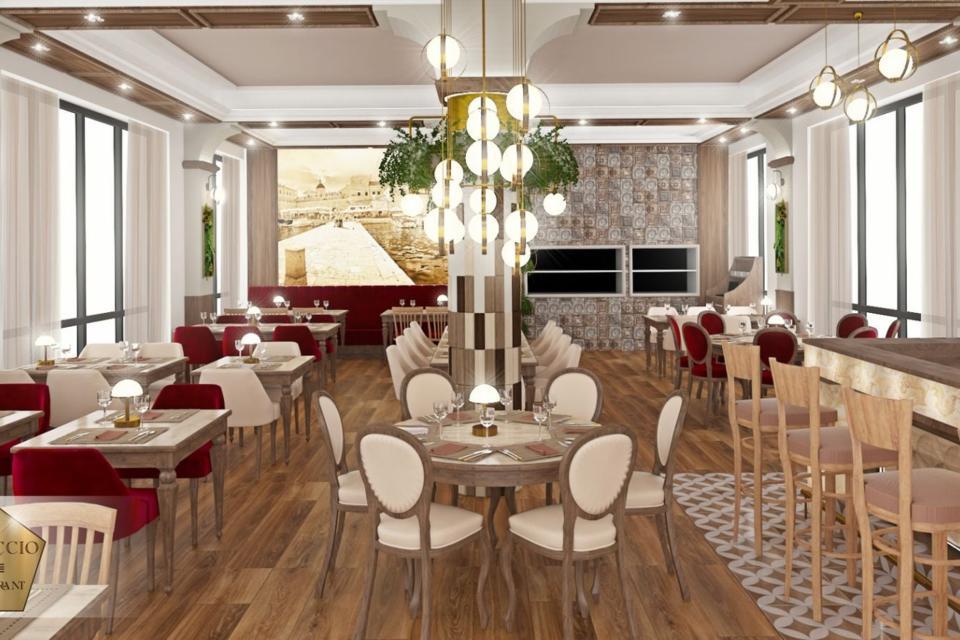 Capriccio
BARS AND CAFES
Places for a drink, chat, and relaxation.
Beach bar
Sun tints amidst golden sands
Pamper your senses with a refreshing drink from the beach bar. A relaxing music will charge you with a good mood, while you admire the tranquil bay.
Lena Pavillion
Inspiration and surrounding freshness
Amidst the gardens of Astor Garden Hotel you will find a cosy place for you to relax. This place will embrace you with cosiness and inspiration just a step away from the outdoor pools.
Villa Chinka Cocktail Bar
Cozy & Trendy
Author's cocktails | Something to eat | Shisha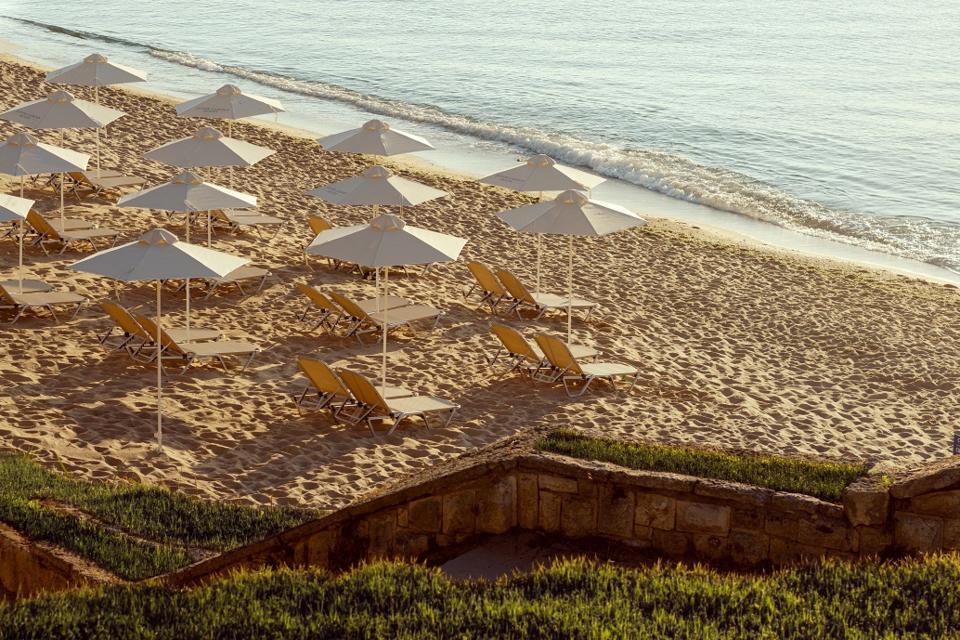 Beach bar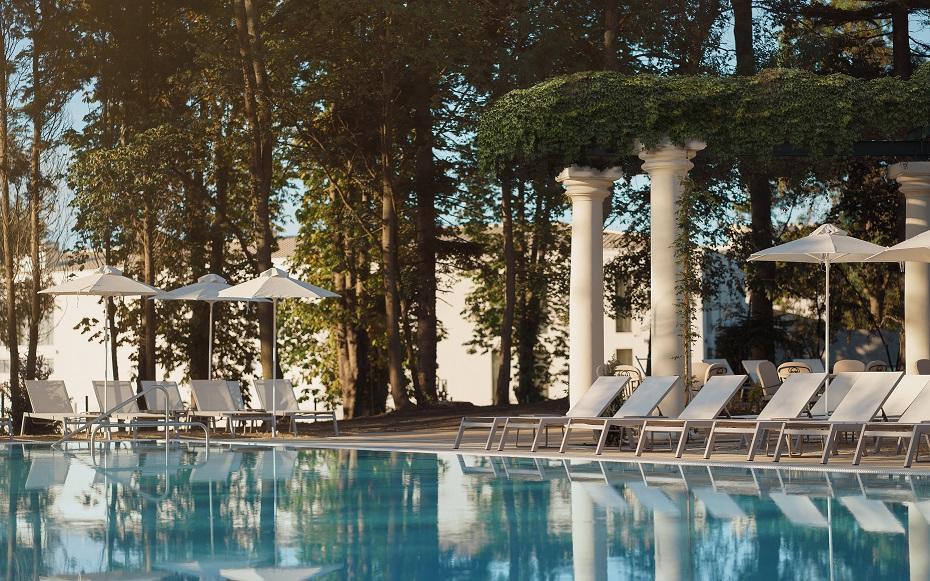 Lena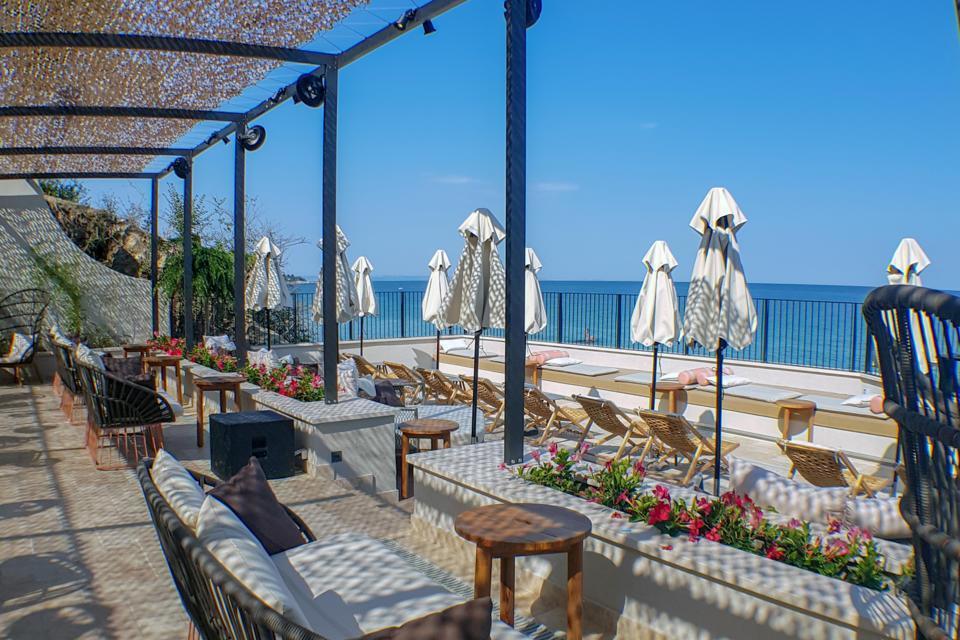 Villa Chinka Cocktail Bar
Radjana Beach
Raffi Caffe
Coffee shop.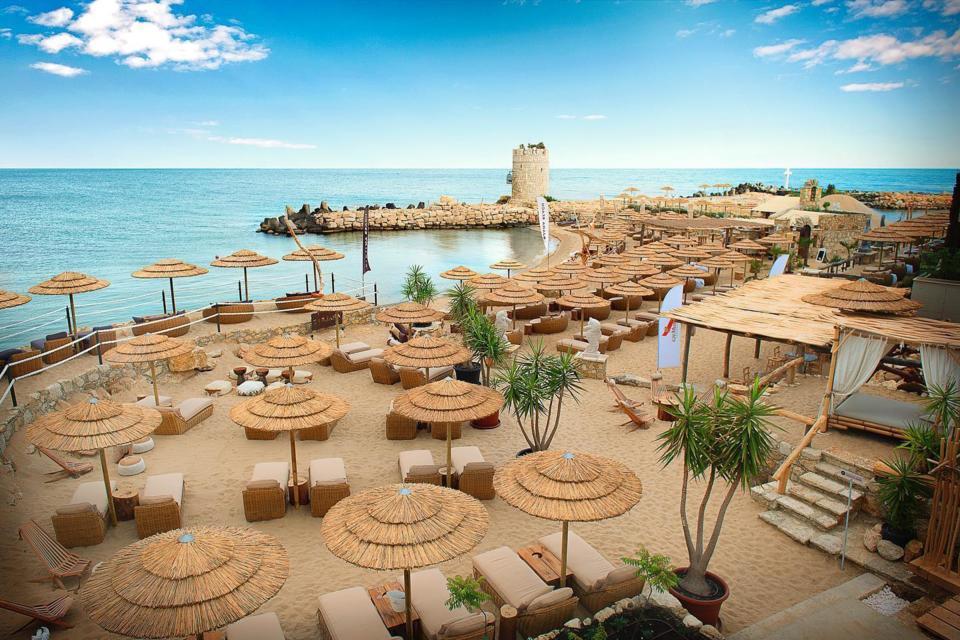 Radjana Beach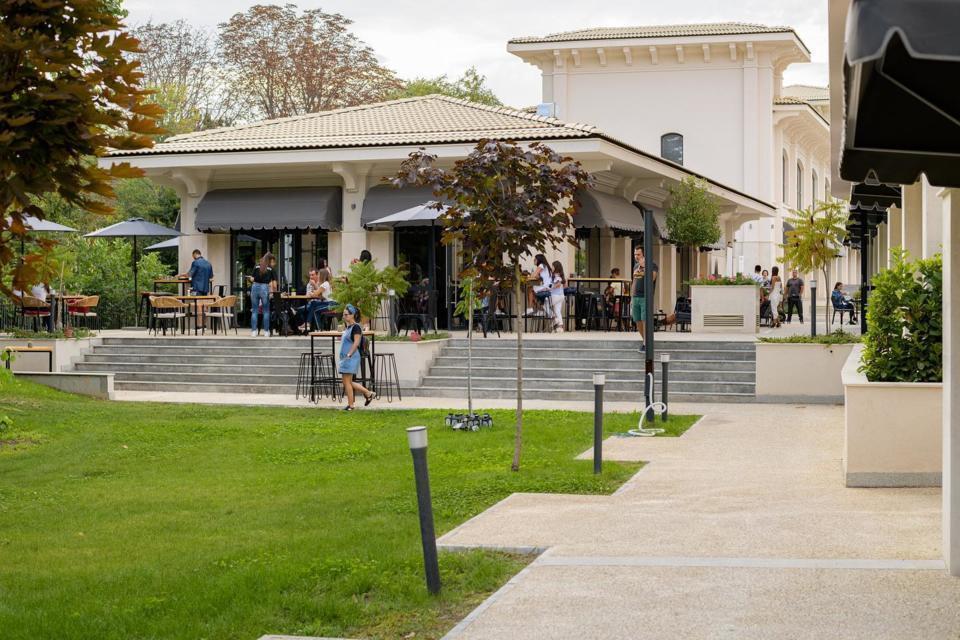 Small City Cafe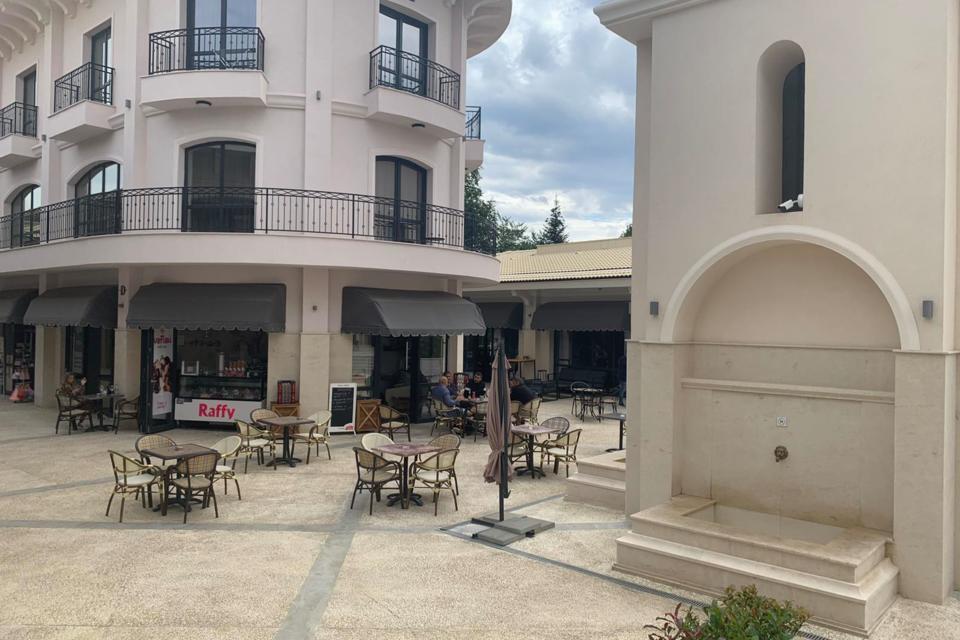 Raffi Caffe
CENTER PRIMORSKI
In Primorski Center you can find a number of shops and restaurants, with a convenient location and covered parking.
* Every Saturday in Primorski Center there is a Farmers' Bazaar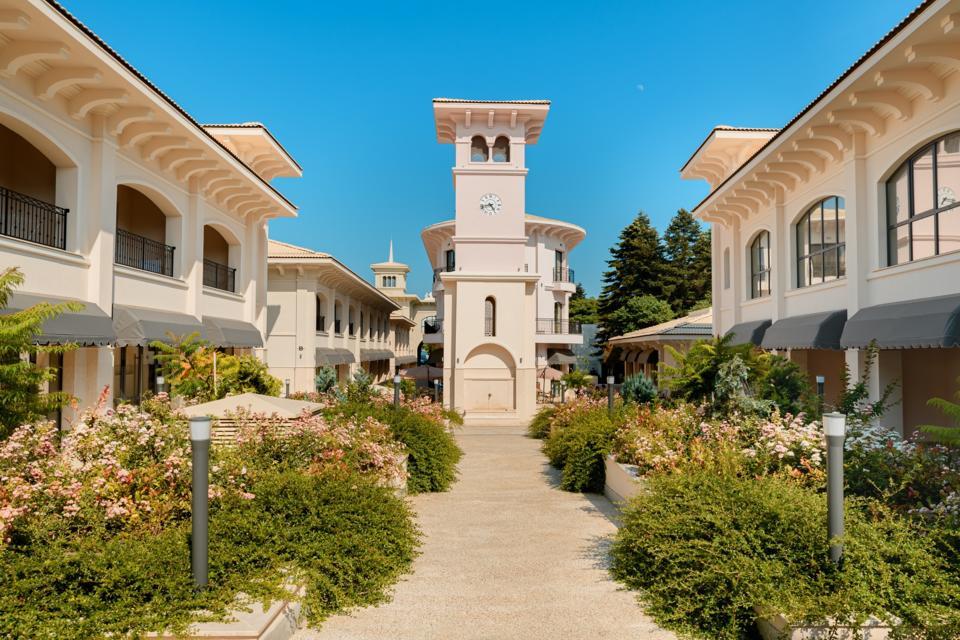 SHOPS
Manolova Pharmacy
In Manolova Pharmacies you will find a wide variety of medicines, supplements, herbs, homeopathy, cosmetics and supplies.
TOURIST CENTER - VARNA MUNICIPALITY
In the center you will find information about: - museums and temples; natural landmarks, cultural and architectural monuments; cultural calendar - festivals, concerts, premieres and other important events in the public life of the city and the country; sport events; transport and more.
Sts. Constantine and Helena Foundation
In the new art space in Primorski Shopping Center you can see and buy some of the donated works of art of the Sts. Constantine and Helena Foundation.
Magnolia flower boutique
In a pleasant atmosphere and always in a good mood the boutique welcomes its guests offering bouquets, arrangements, cards and souvenirs.
Grand Optics
The store has a state-of-the-art ophthalmologist consulting room utilizing today's most technologically advanced ophthalmologic equipment. In the shop you can find specialized corners with boutique eyeglasses, kids and sports products, outlet collections and many others.
COMSED
COMSED and COMSED Online chain of children's stores are among the leading and fastest growing participants in the market of toys, baby and children's accessories.
Art Shop
Belissima MARRY ME
The jewelry company has one of the largest author's collections of basic models of wedding rings made of white, yellow and rose gold, with a simple design or inlaid with diamonds. In addition, Belissima is a representative of some of the largest Italian jewelry brands such as le Bebé - jewelry and accessories for mom, dad and their child, Amen, Cameo Italiano and others.
SHOP VALLREY HANDMADE
Havaianas Shop
Shop for beach slippers and accessories of the Brazilian brand Havaianas.
FIONNA – BULGARIAN COSMETIQUES
Cosmetics - natural products for hair and body - shampoos, body lotions, creams, scrubs, natural water and shower gels. Natural and glycerin soaps. Flavored candles. Flavors. Bathroom accessories.
REFAN – PARFUMERIE & COSMÉTIQUE
Wide variety of REFAN branded products. We offer a wide range of products enriched with natural ingredients, multiple fragrances for men and women, specialized cosmetics - face, hands and body care, handmade candles and glycerin soaps, fragrant bath products, bath salts, oils and fruit scrubs .
Raya's Food
In Raya's Food you will find a wide variety of sweets and chocolates, nuts, alcohol, tobacco products and one of the best Italian coffees.
GourmeTO
Selected and tested delicacies and traditional products. Meat and dairy products high on the mountain, clean, selected and very tasty! Excellent Bulgarian wines from small cellars, both on site and to buy at home.
Modestamente Boutique
Modestamente Boutique stands out with its own presence.
The store is constantly evolving in the sector of luxury women's fashion, presenting an interesting selection of world-famous brands to Bulgarian customers and foreign visitors.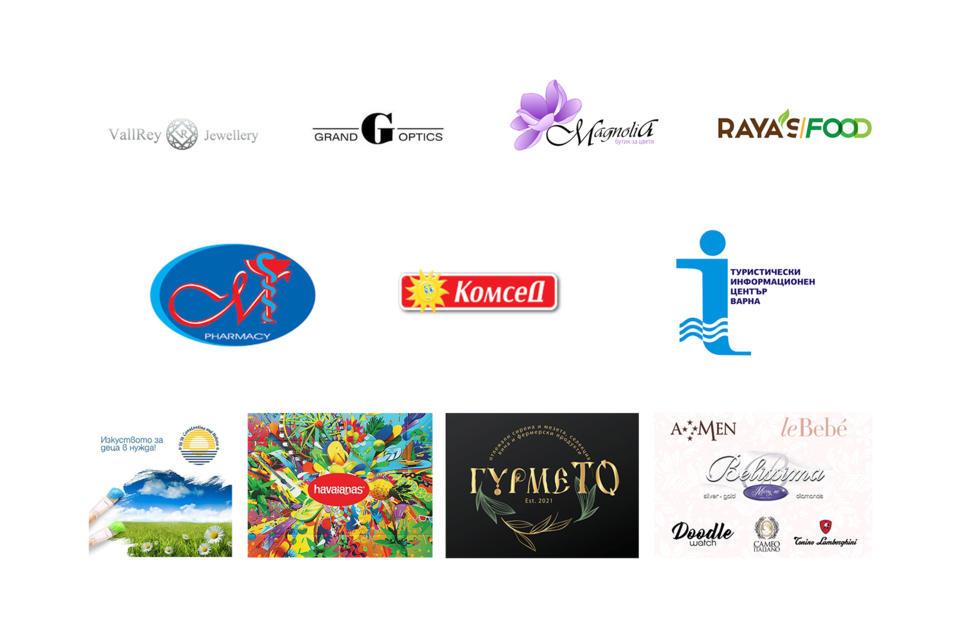 VENUES
Gyros Factory
If you are a fan of Greek cuisine - welcome to the newly opened Gyros Factory in Primorski Center.
So Fresh
A chain of restaurants for healthy and balanced eating in the busy everyday life.
RAFFI CAFFE
Coffee Shop
Restaurant Capriccio
Capriccio Restaurant will enchant you with many delicacies, excellent service and a pleasant atmosphere. We are expecting you!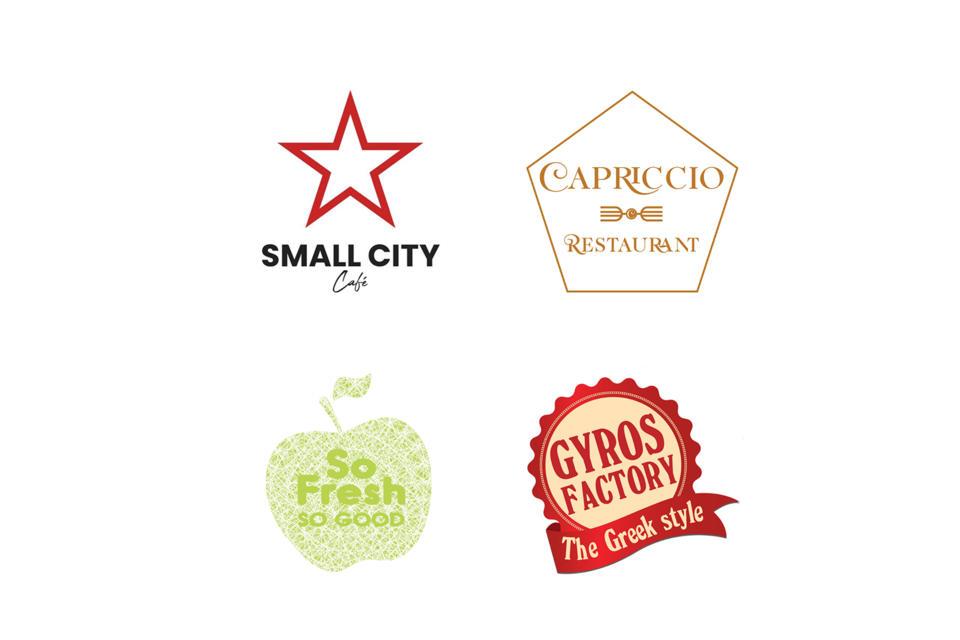 SERVICES
MSAT Cable
MSAT Cable is the largest operator in Northeastern Bulgaria. The company has a high-tech optical network, which allows it to offer a wide range of services without compromising on quality.
Hairdresser SiStyle
For everyone who wants to stand out with a brilliant appearance.
Barbers CREW
Barbers CREW is a brand founded in Scandinavia (Norway) in 2019, by the Antonov brothers. Their main goal is to create trends for modern hairstyles and stylish beards.
CENTRAL COOPERATIVE BANK AD
CENTRAL COOPERATIVE BANK AD is a universal commercial bank, which belongs to the financial structure of CCB Group EAD.
TEXIM BANK
TEXIM BANK is one of the first currently operating private banks in Bulgaria
Real estate agency Black Sea Imo
AGENCY "Black Sea Imo" offers its clients the following services: Purchase and sale of real estate; Renting and leasing of real estate; Organizing obtaining bank loans for the purchase of real estate and others.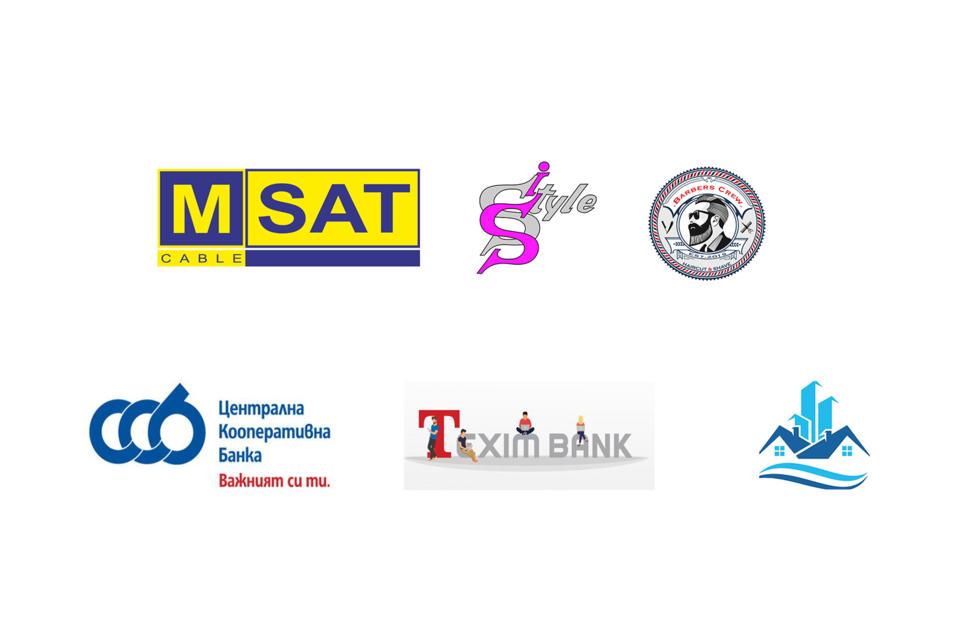 BEACHES
The Bay Beach
The picturesque beach will not let you go or sail!
Astor Garden Beach
Sun, sea breeze and fine silk sand. A refreshing drink under the shadow of the umbrella in the company of a loved one or a book. The tranquil blue of the sea and the endless summer day.
Angel's Beach
The newest addition to the beach in Sts. Constantine and Helena. You can enjoy beautiful views and pleasant music.
Radjana Beach
GoldFish Beach
The beach in front of the restaurant "GoldFish".
Azalia Beach
The hotel's beach will enchant you with fine golden sand. Sunlights gently caress the senses and the warm sea waves bring a feeling of freshness and bliss.
Verdi Beach
Verdi Beach will charm you with marine blue sofas, cozy lounges and the opportunity to dive into the Jacuzzi on the beach.
[See more](https://en. visitstconstantine.bg/estate/verdi-beach "")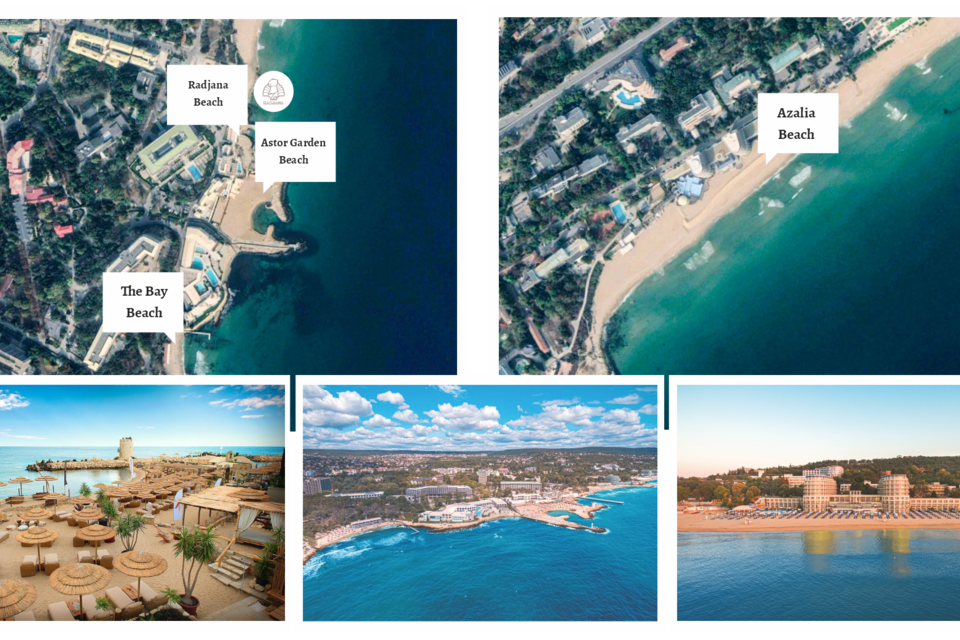 Varna Summer Cinema
Enjoy outdoor screenings every night after sunset. Varna Summer Cinema awaits you with 800 seats and the largest 3D outdoor screen.
SPA & WELLNESS
Aquahouse Thermal & Beach
With its 14 pools and water facilities, Aquahouse Thermal & Beach combines the healing power of mineral water with the pleasant feeling of the sea breeze, the benefits of sea water and the sea climate. Skillfully combines the conditions for rest, sports, recovery and rehabilitation. The whole complex is supplied with mineral water.
Aqua area
Visitors can take advantage of different in size indoor and outdoor pools, a 25-meter swimming pool, a hot mineral pool, an outdoor Finnish sauna, a Jacuzzi. For the people who love sun rays, there is a comfortable beach and relaxation area.
Thermal area
It enhances services and provides conditions for full recovery, rehabilitation and balneotherapy. Additional indoor and outdoor pools, equipped with plenty of water jets that help relax the muscles and relieve stress. The therapeutic pool with 42°C mineral water is suitable for the prevention of diseases of the locomotor system and the peripheral nervous system, for the rehabilitation and improvement of orthopaedic and traumatic conditions, gynaecological and skin problems. Finnish and herbal infra-red sauna, hammam, steam bath and salt room are also available.
Wellness area
For the people who love exercises, there is an opportunity for individual and group sports activities - fitness, aerobics, yoga, etc. In the same area, there are devices for prophylaxis and rehabilitation - electrotherapy, magnetotherapy and mud therapy. Special restorative and beauty procedures - mineral baths, hair salon and cosmetics have been selected for beauty care.
Children's area
For the youngest guests, there is a special children's area with indoor and outdoor swimming pools with a temperature of 32°C; two of the pools are also suitable for babies. Animators offer activities and entertainment for children.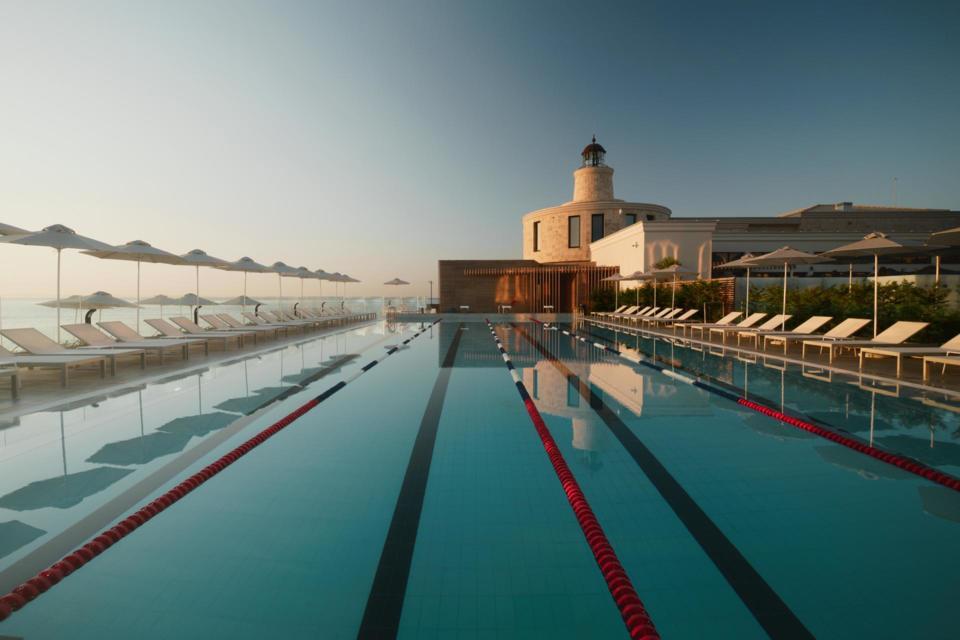 FULL GUIDE WITH VENUES, SHOPS AND SERVICES
LANDMARKS GUIDE NEAR TO STS. CONSTANTINE AND HELENA